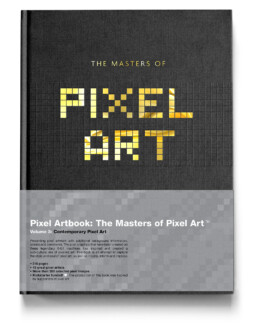 The Masters of Pixel Art – volume 3
Some of the best contemporary pixel art from the next generation of artists.
" Got it in today in tip-top shape. What a great volume! The artwork inside is fantastic. Looking forward to Volume 3! " / Fotios Zemenides

" Received my packet in Braunschweig, Germany. Great project – everything perfect and in time 🙂 " / Jan Kador
" Gourgeous! " / Jose Luis Equiza

" It turned up this morning, very well packed – those expanded foam corner protectors are great. Most books I get in the mail, even well packed ones usually have some corner damage, but this one was in perfect condition. And the book is beautiful! " / Matt Innes

---
---
Description
Volume 3 – Contemporary Pixel Art
This book features pictures from the next generation of artists, working and developing the concept of pixel arts. With this book we explore and present the best of the best pixel art today.
The book was announced with this video: https://youtu.be/HlNASOKi1d4
Featured Artists
6VCR (sixveeceear), 8pxl, a3um, andylittle, APO+ (伊藤大作), Carrion, Deceiver, Dex, Finlal, Fleja, Fool, Gas 13, Gustavo Viselner, GuttyKreum, Helm, iLKke, いぬのや, (inunoya), Jinn, kartonnnyi, Kirokaze, Kobi, Koyot1222, Mark Ferrari, Mattias Rotman, Mr Hk, Octavi Navarro, Orange-Magik, Pakowacz, ptoing, Rallfried, Roman Gonzo, Seppuku_Doge, せたも (Setamo), Shilov, Skittle, slym, Slynyrd, Sovan Jedi, thUg (thUg-inc), tomic, Tommi Laurila, vierbit, waneella, Yes I Do

Pixel graphics in a stylish artbook
The Masters of Pixel Art presents a selection of the very best pixel artwork and the artists behind it in an exclusive production. A beautiful coffee table book that can be presented along other art- or photo books, helping to show off the real potential of pixel art as well as inspire, impress and inform.
As additional content, many images are presented with background information, comments by the editor and in-depht stories from the artists themselves. The pixel graphics that emerged in the 80's has inspired and created a sub-cultural era of pixelled art. This is an attempt to capture the style and soul from that period of pioneering and creativity.
More Info and News-feeds
www.facebook.com/themastersofpixelart/
www.instagram.com/themastersofpixelart/
www.twitter.com/MastersPixelArt/
Additional information
| | |
| --- | --- |
| Weight | 1.6 kg |
| Dimensions | 30.5 × 23.6 × 2.2 cm |
| Book type | Quality hardback cover |
| Pages | 216 |
| Paper | 150 g silk coated paper |
| Cover | Durable black finish with gold debossing |
| Featured artists | 44 |
| Images | More than 350 pixel art images |
| ISBN | 9789151935393 |