The Masters of Pixel Art book series was created as a celebration to the pixels, presenting a selection of the very best of pixel art in an exclusive production. The high quality art books are designed as typical coffee table books — made to be displayed among other art or photo books. Our ambition has been to move pixel art into the art & design room, showing the creative and unique work that pixel artists create.
The books main focus is pixel art and different aspects of this unique and stylish media. Each book covers a different range of platforms, bitplane colour depth and selected artists. Each artist is free to talk and explain about any aspect of his or hers art. Sometimes an artistic work flow is revealed, sometimes technical details are explained, and sometimes social stories of the creation is told.
The Creation of the Book Series
The creator Klas Benjaminsson (aka pixel artist "Prowler") explains some of the reasons for making the books and starting Nicepixel.
"Pixel art has come back strong in recent years, and I felt there was a need for a book that treated pixel art seriously. Some years ago I could see a trend where retro design increased in popularity. Books were printed celebrating the old games, C64 and Amiga cases were remade and even movies were in the making. There seemed to be a genuine and strong interest for retro things, but as a pixel nerd I lacked a book that treated my particular area — pixel art.
I wanted to create a book that made an interesting and qualitative presentation of pixel art in particular. It was important to limit the number of images presented in order to make the book a selection, the best of the best, not just another big collection.
Another important thing was to add something more to the reader. In my experience, I've heard some of the most interesting stories, information and fun facts when speaking directly to other artists. I felt it was a shame that many of these unique and cool details should just be forgotten. It was a difficult but fun job to track down as many as possible of my own pixel heroes, both old and new, and see how many stories I could gather. Not surprisingly, many of the artists understood directly what I wanted to do and gladly helped. In addition, I also wanted them to speak about their relation to pixel art, their unique experiences and life in the scene, or just about their creative work in general. All this put together, I felt there would be plenty of information to justify a real book that offered more than just nice images."
"It was important to add something more to the reader"
Here is an overview of some important mile stones of the Nicepixel company and the book series.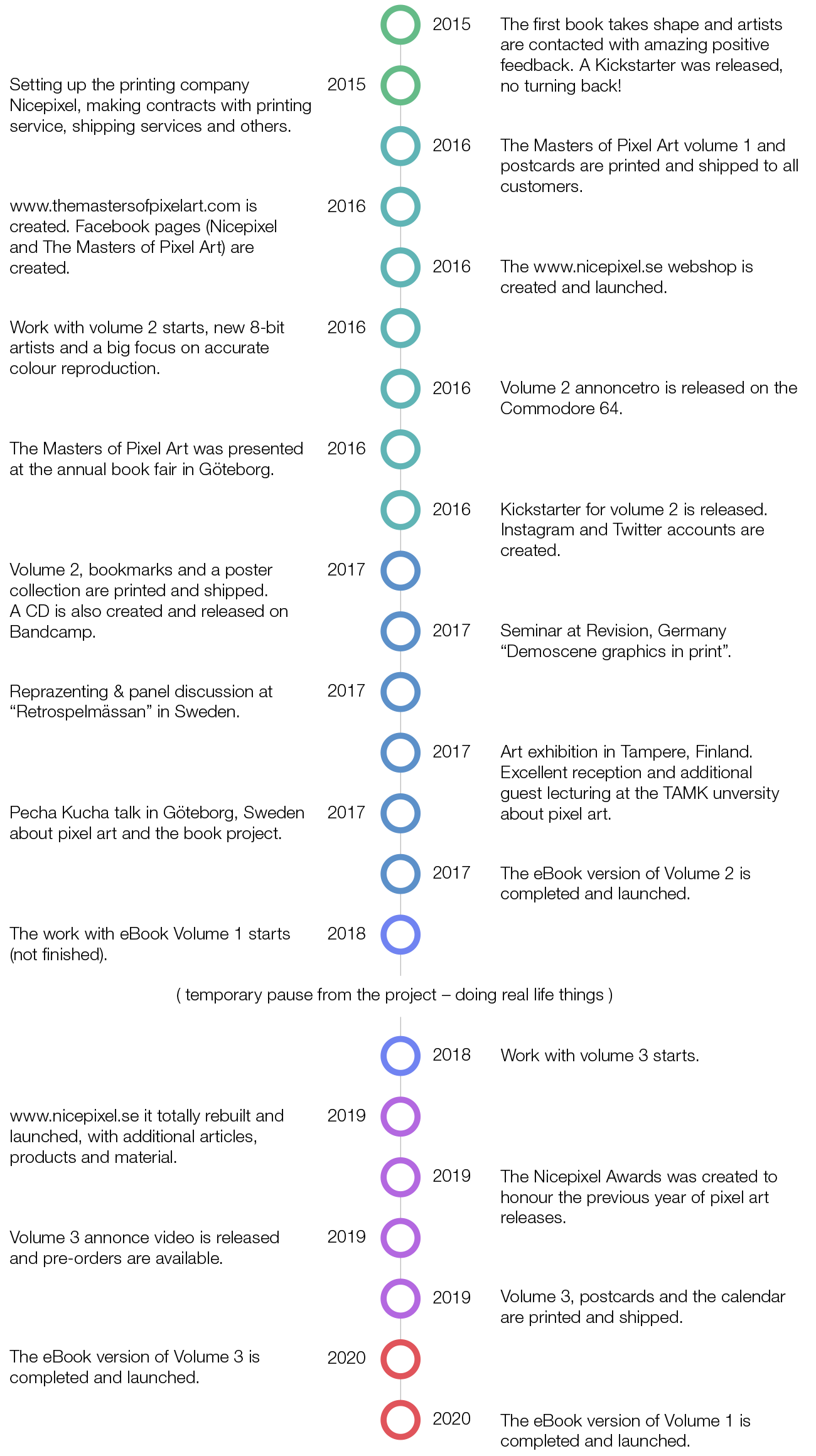 The project is about spreading the best of pixel art — making it public, official and in print, just like any other recognized art form