CURRENT STATUS, 3 July: The eBook is now ready and possible to order on this site.
This is an introduction page that worked as an information platform during the development to the books. It was updated with the latest status of the project, links to the book packages and other information.
Watch the release video with amazing music by !cube
A book filled with amazing pixel art made by artists from 18 different countries, some of the best pixel artists active right now.
Place a pre-order today to get your book in time for X-mas*!
Pixel art by Octavi Navarro (Spain), beautiful illustrations that tell a story.
*: only guaranteed inside Europe.
It's finally in the making — volume 3 will continue the same format and style as the previous books, featuring fresh new pixel art from today's artists!
The Masters of Pixel Art volume 1 and 2 was both quite focused on the computer platforms and what pixel art was possible to create with those limitations. With volume 3 we wish to explore the next generation of pixel artists at work — using contemporary pixel art styles that does not limit themselves to computer specifications, but rather sets up limits and formats to make the image result exactly in the artist's vision of retro pixel graphics. Creating the awesome "pixel look"!
A Kickstarter campaign was completed on the 1st of July, successfully funding the production of volume 3.
Volume 3 artists:
8pxl, andylittle, Deceiver, Finlal, Fool, Gas 13, Gustavo Viselner, Helm, iLKke, Jinn, Kobi, Koyot1222, Mr Hk, Octavi Navarro, Orange-Magik, ptoing, Roman Gonzo, Seppuku_Doge, Skittle, slym, Slynyrd, Sovan Jedi, thUg, tomic, vierbit
New additions (compared to the release movie):
6VCR, a3um, 伊藤大作 (APO+), Carrion, Dex, Fleja, GuttyKreum, いぬのや (inunoya), kartonnnyi, Kirokaze, Mark Ferrari, Mattias Rotman, Pakowacz, Rallfried, せたも (Setamo), Shilov, Tommi Laurila, waneella, Yes I Do

Contemporary Pixel Artists
In Volume 3 we are proud to present a wide range of artists active today, working on various platforms pushing out their art through social networks as well as dedicated sites. Without computers setting the limitations, these artist create their own limitations intentionally to achieve the pixel art look.
What methods do they use? What inspires and motivates today's graphics designers to pick up this beautiful but obsolete visual language of pixel art? Are there links to the old pixel graphics created on 8-bit computers? What limits and rules makes today's images "pixel art"? The Masters of Pixel Art volume 3 aims to cover as much as possible of the questions above, as well as giving each artist space to write background details and stories to their art work.
The perfect Christmas gift — Deliveries for all pre-orders made in time for Chirstmas*!
Free pick-up options available in Sweden and Germany. ( * not guaranteed outside Europe )
The books has now been printed successfully and the result looks excellent! We aimed to include as much extra information, stories and details as possible, just like the past volumes. All graphics are being pixel-optimized for print in 600 dpi to achieve the best possible result.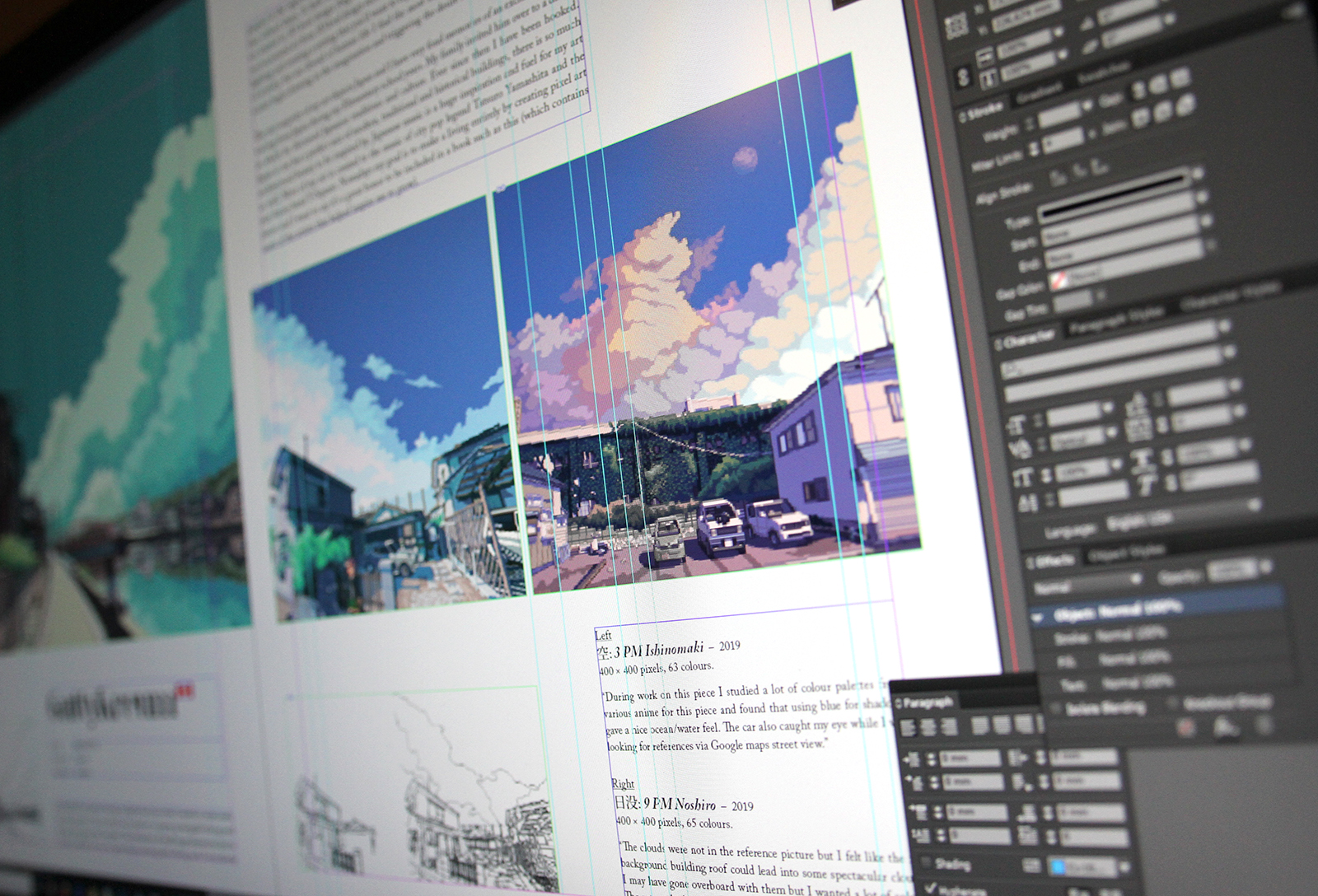 working on GuttyKreum's section
The paper sheets are currently drying and the books will be bound in the beginning of December. The Calendar and the Postcards are about to be printed as well.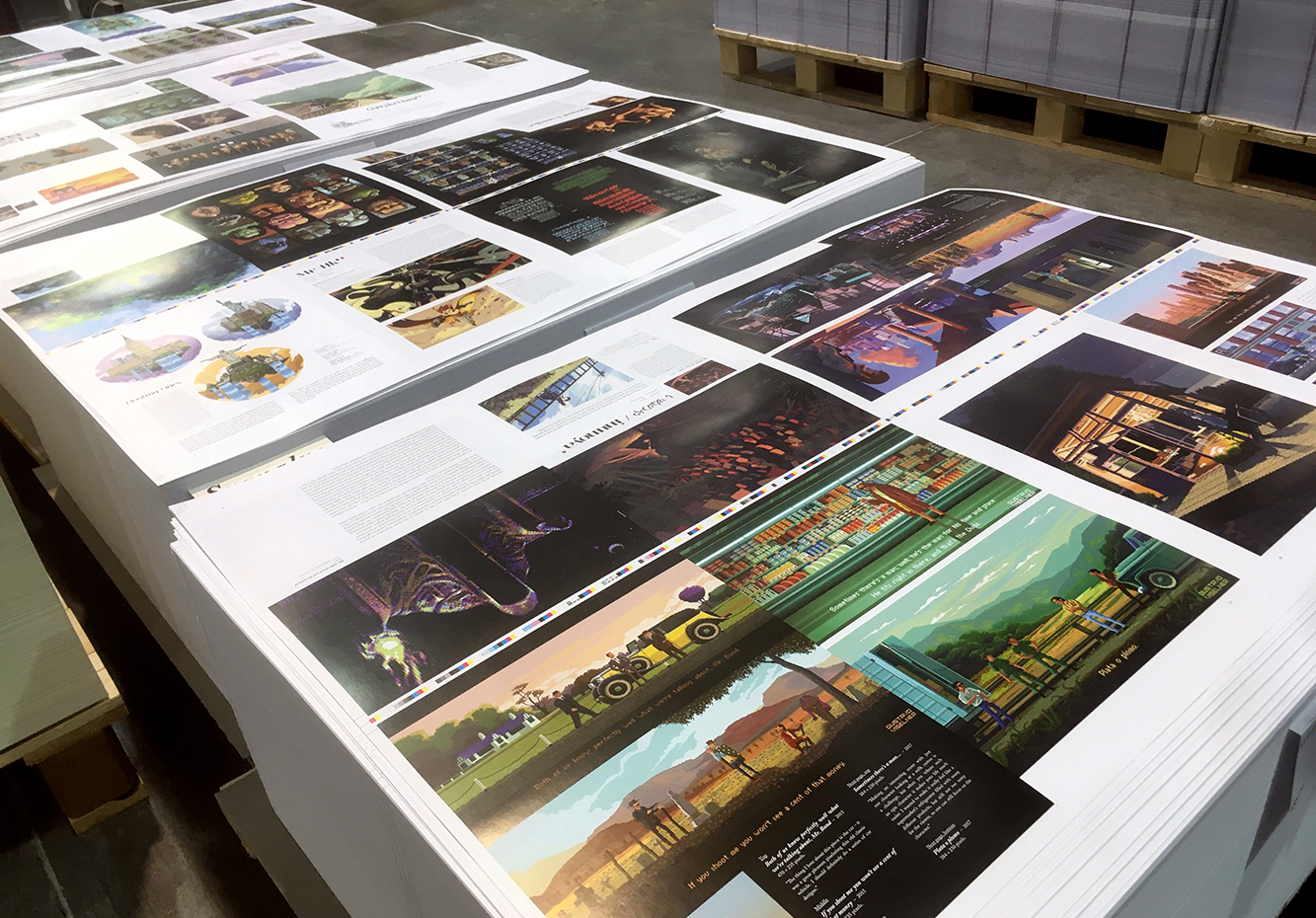 printed sheets waiting to get dry
Alongside the work we try to communicate the news about the book and reaching new readers and customers. Nicepixel is a small company with a small revenue but a big passion for pixel art. If you know a friend who might be interested in the books, or a company, event or similar that would be suitable for us to contact, don't hesitate to let us know!
We look forward to release another essential book for the pixel art community — knowing the pixel art scene is very much alive and growing!
ALL SHIPPING TIMES STATED BELOW ARE ESTIMATIONS AND NOT PRECISE GUARANTEES.
The bulk of all pre-orders will be sent on 13th of December from Germany via DHL (shipping time 1-5 days inside EU, 5 days or more outside EU). All Swedish and Norwegian pre-orders (+ some special international orders) will be sent from Sweden on 15-16th of December via Postnord (SE shipping time about 2-3 days, NO 4-5 days).
ALL PRE-ORDERS HAVE NOW BEEN SENT.