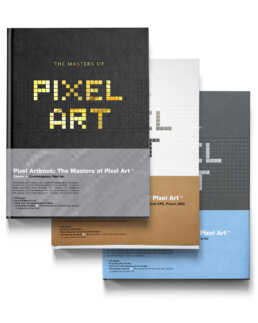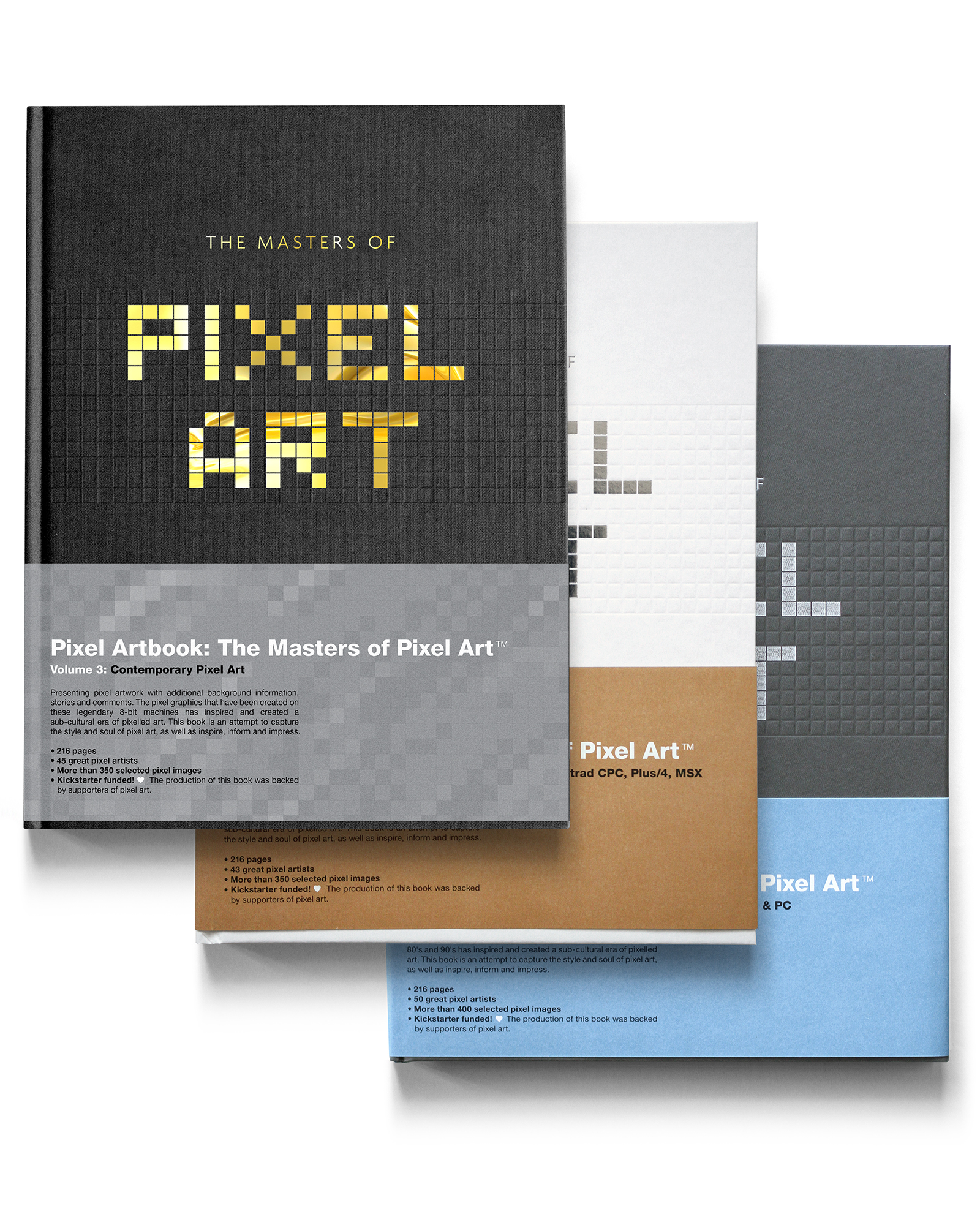 Triple pack: The Masters of Pixel Art – volume 1, 2 & 3 (incl. eBooks)
PRE-ORDER – delivery for Christmas 2019
---
All three books in a discounted package deal!
Some of the best pixel art work ever created on the Amiga and Commodore 64 and other retro 8-bit platforms like the Amstrad CPC, ZX Spectrum, Atari XL-XE, Commodore Plus/4 and MSX. Plus the volume 3 featuring contemporary pixel art.
" All items arrived safely in the UK today, impressed with the paper quality of both books. " / Mark G

" Loving the books like crazy 😀 " / Jonathan Nertlinge
" I received both volumes in California. The boxes were pretty beat up but they did the job and protected the books. " / Paul Koerber
---
---
Description
All three books in a discounted package deal!
Missed the first books? Now you have the perfect chance to get all three at a lower cost.
This is Included with this PRE-ORDER
• Free pre-order extra perks / Kickstarter stretch goal awards – all included!
• Delivery in time for Christmas
• Your name printed in the book as an official backer
• Signed (free and optional)
• eBook (PDF) version, including www-links and animations
Kickstarter
The production of Volume 3 was financed with pre-orders here and with a Kickstarter campaign! No matter if you pre-book your copy here or back the Kickstarter, you will recieve the same extras and stretch goal awards.
Delivery
All pre-orders will be shipped once Volume 3 has been printed in December. Please choose "PRE-ORDER" shipment options to get the following shipping prices per book:
• Sweden & Germany: 60 SEK = €5.6
• Rest of the World: 100 SEK = €9.2 = $10.4
• Pick-up point Göteborg HQ (Sweden, anytime): free
• Pick-up point GERP (Sweden, February 2020): free
• Pick-up point Revision (Germany, April 2020): free
• Pick-up point Datastorm (Sweden, August 2020): free
Volume 1 – the "Amiga" book
Volume 1 features images with 5- to 8-bit colour depth. Some of the best pixel art work ever created on the Amiga, but also from the Atari and PC.
Volume 2 – the "c64" book
Volume 2 features images from the Commodore 64, together with pixel art from other "exotic low-end" machines like the Amstrad CPC, ZX Spectrum, Atari XL-XE, Commodore Plus/4 and MSX.
Volume 3 – contemporary pixel art
This book features pictures from the next generation of artists, working and developing the concept of pixel arts. With this book we explore and present the best of the best pixel art today.
The book was announced with this video: https://youtu.be/HlNASOKi1d4
Featured Artists – volume 1
Alex, Alien, Angeldawn, Antony, Archipics, Archmage, Bay Tremore (Duke), Bridgeclaw, Cheetah, Chevron, Cyclone, Das, Darklight, Destop, Devilstar, Electron, Facet, Fade One, Fairfax, Fiver (theunitedstatesofamerica), Fool, GFX-twins, Haplo, Havok, Hof, J.O.E., Jaco, Jamon, Jok, Kris, Lazur, Made, Mazor (Kidlove), Mon, MRK, Mrmo Tarius, Niko, Orhan, Pixie, Prowler, Ra, Rork, Saffron, Slayer, Thor, Titan, Typhoon, Uno, Visualize (Visualice), Walt
Featured Artists – volume 2
AcidT*, Archmage, Beb, Carrion, Clone, Deev, Duce, Electric, Helm, ilesj, iLKke, Jailbird, Joe, Kenët, Leon, Louie64, Made, Mermaid, Mirage, Nero, Odyn1ec, Ooz, Pal, Piesiu, pRof, Prowler, ptoing, Redcrab, rexbeng, Ripek, Sander, SIT, Skurwy, Slayer Grafix, STE, Stone, The Sarge, Twoflower, Valsary, Veto, Wayne Schmidt, Yazoo
Featured Artists – volume 3
8pxl, a3um, andylittle, Archipics, Carrion, Deceiver, Dex, Finlal, Fleja, Fool, Gas 13, 銀親 (Ginoya), Gustavo Viselner, GuttyKreum, Helm, iLKke, いぬのや (inunoya), Jinn, kartonnnyi, Kobi, Koyot1222, Mark Ferrari, Mattias Rotman, Mr Hk, Octavi Navarro, Orange-Magik, Pakowacz, ptoing, Rallfried, Seppuku_Doge, せたも (Setamo), Shilov, Skittle, slym, Slynyrd, Sovan Jedi, Square Boy, thUg (thUg-inc), tomic, Tommi Laurila, vierbit, waneella, Yes I Do.
Final list might change slightly.
Pixel graphics in a stylish artbook
The Masters of Pixel Art presents a selection of the very best pixel artwork and the artists behind it in an exclusive production. A beautiful coffee table book that can be presented along other art- or photo books, helping to show off the real potential of pixel art as well as inspire, impress and inform.
As additional content, many images are presented with background information, comments by the editor and in-depht stories from the artists themselves. The pixel graphics that emerged in the 80's has inspired and created a sub-cultural era of pixelled art. This is an attempt to capture the style and soul from that period of pioneering and creativity.
More Info and News-feeds
www.facebook.com/themastersofpixelart/
www.instagram.com/themastersofpixelart/
www.twitter.com/MastersPixelArt/
Additional information
| | |
| --- | --- |
| Weight | 4.8 kg |
| Dimensions | 30.5 × 23.6 × 4.5 cm |
| Book type | Quality hardback cover |
| Pages | 216 |
| Paper | 150 g silk coated paper |
| Cover | Foil debossing |
| Featured artists | Volume 1: 50, volume 2: 43, volume 3: more than 40 |
| Images | More than 350 pixel art images per book |